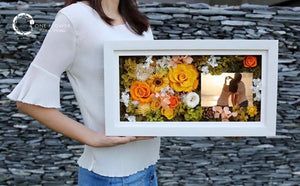 Premium Customized Preserved Flower Frame - Imprint precious memories
Design Inspirations: Let this frame imprint precious memories. Remind yourself of special moments.



Materials: Flowers are fresh flowers which are processed through a series of special procedures and kept for 1-2 years. It is beautifully known as "external love"
Applications: wedding flowers, anniversaries, anniversaries, opening gifts, promotion/retirement gifts
Frame size: 25cm H x 45cm W
Photos: 4R~5R 
Care Tips: Preserved flowers has longer storage time for 1-2 years if the environment is kept dry.
Remark:
The photo is for reference only.
Please provide below the information

One photo (more than 1MB pixels); Please forward the photo to our e-mail address.
Main Flower color tone: greenish/purple/pink

Production time: 2 weeks upon the design is confirmed.