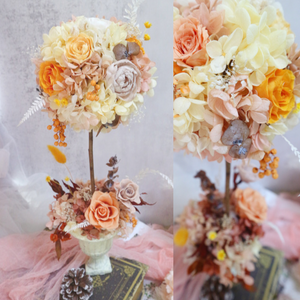 Your wishes come true Perserved Flower Wishing Tree 

Specialty: Specially selected flowers from Japan, with a unique 360 degree cute ball shape, symbolizing that what you want, the universe will help you to get what you want.
Flower Material: use imported flowers from Japan, carefully selected dried flowers, containers and decorations.
Purpose: To congratulate the opening of a new store, for celebrations and home decorations.
Size: 40cm H x 15cmW
Care: Keep in dry environment and avoid direct sunlight to preserve longer, can be stored for up to 1-2 years or more.